The RMQSI Knowledge Center offers a variety of available training options for beginners to the reliability, maintainability and quality (RMQ) field. The available training, which ranges from online videos to live, instructor-led courses, introduce the basic reliability engineering concepts, including the different metrics by which reliability and quality are measured as well as the different techniques to predict, test and analyze the reliability of a product or system. The different introductory training offerings are listed below:
The RMQSI Knowledge Center's free online training series provides an introductory walkthrough of seven basic reliability topics. These presentations introduce the viewer to the importance of reliability, and some of the commonly performed techniques in a product/system's reliability lifecycle. The series covers a variety of topics in which our community has expressed an interest.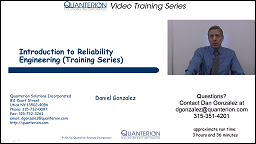 This online video series aims to take some of the mystery out of common reliability terms, tools, techniques, and approaches. The series draws from our popular live instructor-led training course "Reliability 101" that has been presented worldwide for more than ten years.
The series covers several reliability topics. Each video has a run time of approximately 1.5 hours, plus one more extensive topic, "Reliability Centered Maintenance," which has 3.5 hours of content. The complete set of eight videos contains nearly 15 hours of instruction. A convenient navigation menu provides a means of repeating sections or skipping over previously viewed sections. The videos can be viewed on any internet-enabled device. Click here to view the complete list of Introduction to Reliability Engineering videos.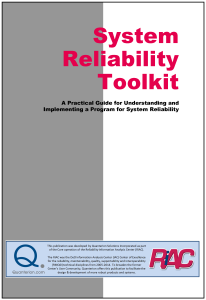 Attendees receive a copy of the System Reliability Toolkit and QuART PRO software, a $239 value!
As the Knowledge Center's most popular live training course, Reliability 101 has been instructed to thousands of engineers and program managers, across the United States and internationally. The 3-day instructor-led course describes the various reliability activities performed throughout a product's life cycle, from design and development through fielding and eventually retirement and disposal of the product/system. Students will learn how to perform these common reliability practices, become familiar with the requirements and purpose(s) of these activities, and gain insight into the tradeoffs and potential pitfalls of different techniques.
Reliability 101 is offered throughout the year as an open training course that is available to anyone that wishes to attend. It can also be presented at your facility, and tailored to focus on specific topics of interest to your organization. Select the link below to learn more about the Reliability 101 Training Course, or feel to contact us at info@rmqsi.org 877.808.0097 with any questions or to make arrangements to attend the course.
Learn more about the Reliability 101 course here.
You can also learn about all our reliability training offerings by clicking here.