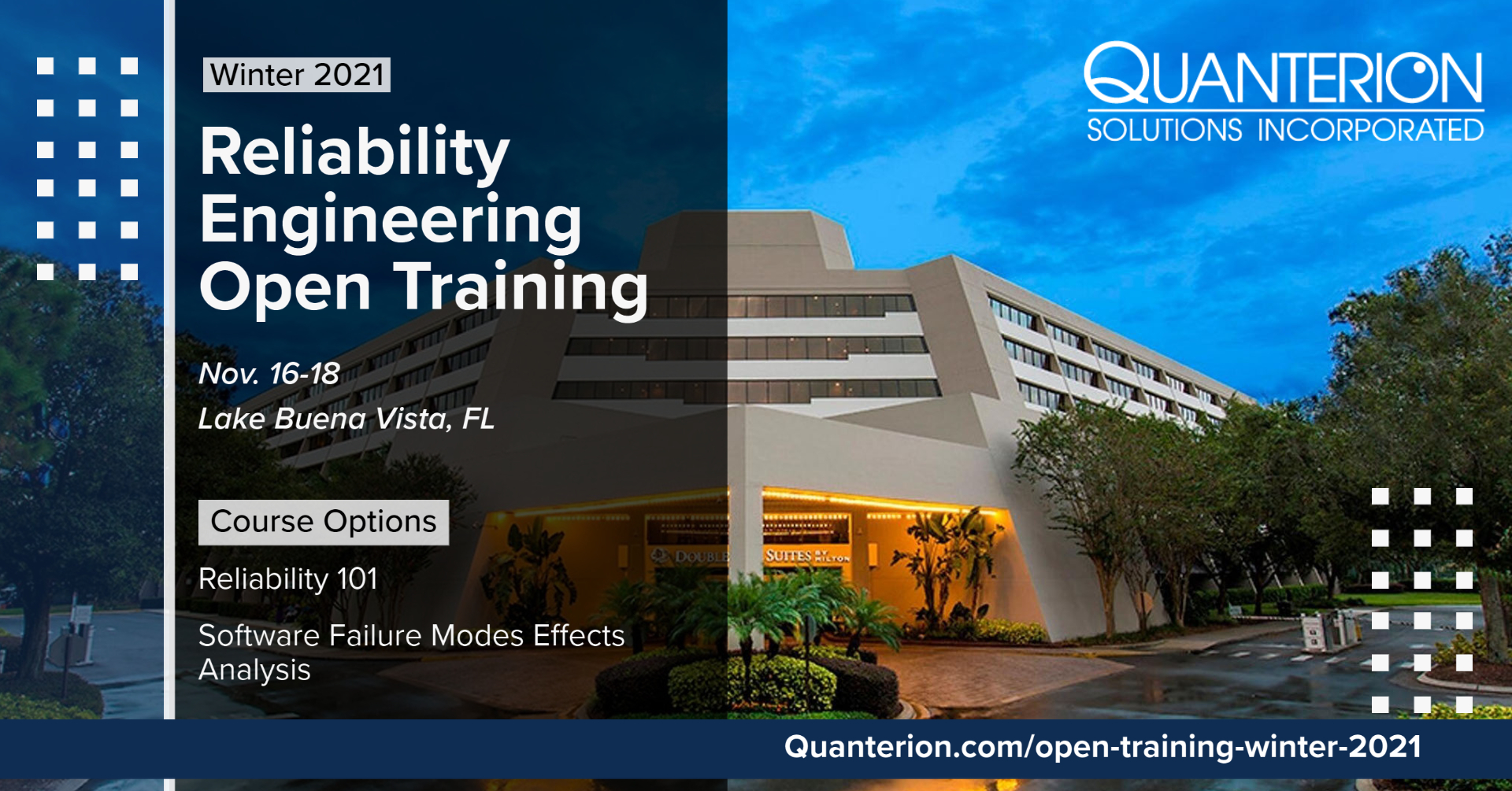 Quanterion Solutions Incorporated is offering reliability engineering open training this winter on Tuesday, Nov. 16 through Thursday, Nov. 18, 2021. The hands-on training will be hosted at the DoubleTree Suites by Hilton Orlando – Disney Springs in Lake Buena Vista, FL.
There is a limited block of guestrooms for course attendees at the group rate of $149/per night. When making your reservation, the special group code "QUA" must be stated in to order to get the special group room rate. Please see the course registration pages for more details.
The price for each course is $1,950. Groups of three to four receive a 10% discount and groups of five or more receive a 20% discount.
The final registration deadline is Thursday, Nov. 4.
Attendees can choose between two course options –  Reliability 101 and Software Failure Modes Effects Analysis.
Quanterion's introductory Reliability 101 training course has been presented worldwide for more than 10 years. The course covers reliability program concepts, design and analysis methods, and test and evaluation approaches. The course is ideal for persons with newly assigned responsibilities in the reliability and maintainability area, as well as managers who want to increase their awareness of the payoffs of different approaches and techniques.
View course registration details and other information: quanterion.com/product/training/winter-2021-reliability-101
Software Failure Modes Effects Analysis covers the steps for performing a software FMEA as well as dozens of software reliability failure modes and root causes related to the requirements, interface design, detailed design and code, vulnerabilities, corrective actions, serviceability, usability and processes. The course is ideal for any engineer who has been tasked with performing a system wide FMEA.
View registration details and other information: quanterion.com/product/training/winter-2021-software-fmea
A Tradition of Excellence in Reliability Training
The open training is provided through Quanterion Solutions' Reliability, Maintainability and Quality Knowledge Center (RMQSI), which has been educating organizations and individuals in the U.S. and worldwide since the company's beginning in 2000.
"RMQSI's training courses were developed by our in-house reliability experts with decades of practical experience in reliability engineering," said Preston MacDiarmid, President of Quanterion Solutions Incorporated. "Our training is sought after by industry, government and academia for its accelerated concepts-to-application approach. Several weeks ago we were honored to present our Design for Reliability course to members of the U.S. Army."
The training explores common mathematical calculations and statistical techniques used by engineers in their day-to-day work – from calculating failure predictions common in the prototyping lab to analyzing defects in current products on the shop floor.
"Our training minimizes technical jargon to focus on the practical applications of reliability analyses," said Rich Wisniewski, Senior Reliability Engineer at Quanterion Solutions Incorporated. "After three days of training, attendees will walk away with the ability to identify and perform the various types of reliability assessments applicable for a new product at all life cycle stages – from concept to design to test and finally to field support."
View Quanterion's complete catalog of reliability engineering publications, tools, and training opportunities. 
Find Quanterion on social media to access engineering information, resources, and more.