Starting salaries for engineers graduating from college this spring will be in the $50K neighborhood and even higher for the top students, as well as those with specialized experience. The degrees are typically electrical, electronics, mechanical, materials, civil, industrial, computer, and so on. Seldom is there a "reliability engineering" graduate. There are a few exceptions from the University of Maryland or the University of Arizona but in large part the skills that are learned in reliability engineering are learned after receiving one of the common engineering degrees through short courses and/or self-learning. This is not all bad because a strong background in one of the primary degree areas like electronics engineering or mechanical engineering can go a long way toward a better understanding of the design impact on reliability.
There are a number of professional societies that are important to reliability engineering, some of which have certification programs that validate reliability engineering credentials to employers, to customers, and so on even though the individual probably does not have an engineering degree in the field. Table 1 lists the most prominent professional organizations that deal with reliability.
Table 1 – Prominent Professional Organizations Addressing Reliability
Organization
Specialty Areas
Web Site
American Society for Quality (ASQ)
Reliability Publications, Training, Certification, Career Center, Case Studies, Quality Marketplace
http://www.asqrd.org
Institute of Electrical and Electronics Engineers (IEEE) Reliability Society
Training, Standards, Guides, Forum, and Employment Opportunities
http://www.rs.ieee.org
Society for Maintenance and Reliability Professionals (SMRP)
Training, Standards, Guides, and Certification
http://smrp.org
Society for Mechanical Failure Prevention Technology (MFTP)
Condition-based Maintenance, Prognostics Information
http://www.mfpt.org
Society of Automotive Engineers (SAE) Reliability, Maintainability, Supportability, and Logistics Division
Training, Standards, and Guides
http://www.sae.org/technicalcommittees/g11.htm
Society of Logistics Engineers (SOLE)
Training, Standards, Guides, Discussion Groups, and Certification
http://www.sole.org
Society of Reliability Engineers (SRE)
Guides, Software Tools, Employment Opportunities
http://www.sre.org
Table 2 identifies those organizations that offer reliability-related certification programs. All require some form of testing and the Certified Professional Logistician also has experience/educational requirements. The table only highlights the certification requirements, so the reader should refer to the links provided for more details.
Table 2 – Reliability-Related Certifications
Certification
Certification Requirements
Certification Information
American Society for Quality (ASQ) "Certified Reliability Engineer"
Four hour written exam with 150 multiple-choice questions; $269 (nonmember $419). Recertify every two years by credits earned or by retesting.
http://asq.org/cert/reliability-engineer
Society for Maintenance and Reliability Professionals (SMRP) "Certified Maintenance & Reliability Professional"
110 question multiple choice exam for $300 (nonmember $455); recertify every 3 years.
http://www.smrp.org/i4a/pages/index.cfm?pageid=3578
"Society of Logistics Engineers (SOLE) "Certified Logistics Professional (CPL)"
Eight hour multiple choice exam; $250 (nonmember $375) (other work and educational requirements apply).
http://www.sole.org/cpl.asp
Each of the above listed certifications requires preparation for the appropriate test that must be taken. The specific web sites indicated suggest textbooks, publications, and training courses that you can take to prepare. We'd like to introduce another self-paced one we call "REPERTOIRE" that has the convenience of being on-line, while at the same time being interactive, scoring its frequent quizzes, providing feedback, and tracking student progress over time. While it's packaged as a five-course series in all the topics of the American Society for Quality (ASQ) Certified Reliability Engineer (CRE) Body of Knowledge, it can help a candidate prepare for any of the reliability-related certifications, or more importantly just provide affordable basic reliability training without having to travel. Figure 1 lists the five courses.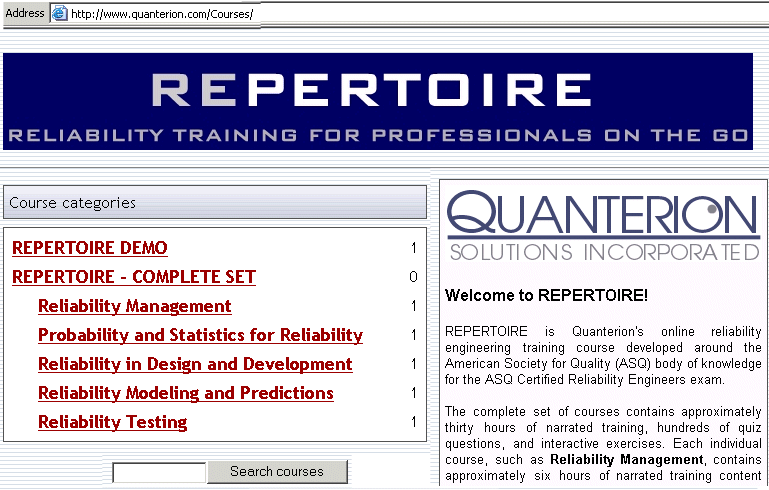 Figure 2-REPERTOIRE Reliability Training Courses