What is it?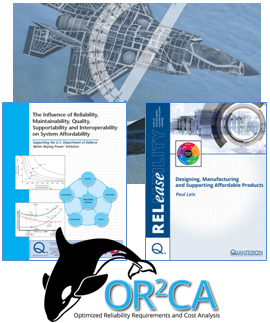 Affordability is the extent to which something is affordable, as measured by its cost relative to the amount that the purchaser is able or willing to pay. It represents a conclusion drawn from an analysis of the "total life cycle cost" of a product/system that its purchase will cost-effectively meet the long term requirements of the customer.
What's the payoff?
Afforadability analysis can help optimize total life cycle costs by minimizing the financial impacts of product/system rework, maintenance/support, warranty, and other related customer ownership costs.
How can we help?
Perform analyses to define realistic and achievable reliability requirements
Define a strategy that optimizes investment decisions for designing, testing and manufacturing suitably reliable and maintainable products/systems
Perform analyses to ensure that investments made during the design, development, test and end-use of a product/system have the desired effect on achieved operational reliability performance at an acceptable Return-on-Investment (ROI)
Provide training to ensure that an organization understands the impact of its decisions on overall product/system affordability objectives
Related Data & Tools:
Related Publications:
The Influence of Reliability, Maintainability, Quality, Supportability and Interoperability on System AffordabilityThe relationship of R&M costs to the Sustainment and Availability Key Performance Parameters (KPPs), the Reliability and Ownership Cost Key System Attributes (KSAs) and the RAM-C Manual processes are discussed. The publication comes with a MS Excel-based tool titled "Optimized Reliability Requirements and Cost Analysis" (OR2CA), developed by Quanterion Solutions Incorporated, that automates the RAM-C process and incorporates three innovative ideas from the Authors presented in the publication.
Reliability: Costly, or Cost Effective?There are those who would argue that the costs of reliability activities associated with developing new products have little payoff. Whether we're talking about commercial products or military systems, we don't agree. Concepts like Life Cycle Costs, Total Ownership Costs, Reliability-based Maintenance, Performance-Based Logistics, and others clearly recognize the contribution of reliability activities in reducing… Read More
Warranty Cost: An Introduction

Whether your company is marketing commercial products or selling to the Government, warranties are an important ingredient to competitive success. Effective warranty planning can ensure success, but lack of attention to cost analyses can spell disaster. This article is intended to introduce the basics of warranties and to identify sources for more information.

System Spares – What's the "Right" Answer?

Manufacturers are often faced with questions such as: How often will my system fail? How many spare parts should I stock? How confident am I that I will have enough spare parts?
Related Training:
Staff at the RMQSI Knowledge Center have provided many years of value-added consulting and training experience in the RMQ Engineering disciplines, to both commercial and government clients.  Browse through our website to learn more and contact us to see how we can develop and present customized training to your organization.