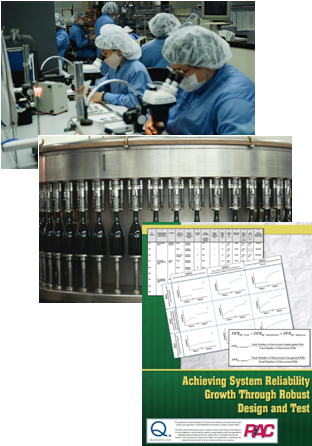 What is it?
Reliability Problem Solving addresses the use of an appropriately tailored suite of reliability engineering activities, tools, methods, procedures, etc., to cost-effectively identify and correct design/process reliability problems.
What's the payoff?
Reliability problem solving activities actively promote reliability growth by identifying and eliminating/mitigating failure modes/ mechanisms in designs and processes. Successfully minimizing the effects of failure can result in lower risk in meeting reliability requirements, an increase in new/repeat business and reduced warranty and maintenance costs.
How can we help?
Ensure that your reliability data is effectively collected, analyzed and used for informed decision making: Failure Reporting, Analysis and corrective Action System (FRACAS)
Perform analyses of your designs/processes and make recommendations to help you better understand the causes of failure: Failure Modes, Effects and Criticality Analysis (FMECA), Fault Tree Analysis (FTA), Worst Case Analysis (WCA), Physics-of-Failure (PoF) Analysis
Perform analyses of your test programs and make recommendations to ensure a cost-effective, value-added reliability test strategy: Design of Experiments (DOE), Accelerated Life Test (ALT), Reliability Growth Test (RGT), Reliability Screening
Related Data & Tools:
QuART PROThe QuART software series represents the fourth generation of the highly popular "Reliability Toolkit" series of RMQ engineering aids originated in 1988 by Quanterion personnel while working at the Rome Laboratory (formerly Rome Air Development Center).
QuART ER (Enhancing Reliability)This 2011 release features over 2 dozen new or improved tools over QuART PRO. QuART ER updates more than 10 tools and adds more than 15 new tools to the tool set available in QuART PRO, including the "Ask a Quanterion Expert" function that allows users to direct their reliability questions to an ASQ certified reliability expert at Quanterion.
Related Publications:
System Reliability Toolkit-V

The System Reliability Toolkit provides technical guidance in all aspects of system reliability, addressing both software reliability and human factors to better reflect the changing requirements of defense community.

Achieving System Reliability Growth Through Robust Design and Test

This book offers new definitions of how failures can be characterized, and how those new definitions can be used to develop metrics that will quantify how effective a Design for Reliability (DFR) process is in (1) identifying failure modes and (2) mitigating their root failure causes.
Related Training:
Fall 2022 Open Training: Quantitative Reliability Analyses – Practical Approaches This course is closed for registrations. Email Qinfo@Quanterion.com for other openings. The purpose of this course is to provide illustrative examples of the more common mathematical calculations and statistical techniques utilized by reliability engineers in the practical performance of their daily activities. Course Dates Tuesday, Nov. 15 – Thursday, Nov. 17, 2022. Course Location DoubleTree Suites by Hilton Orlando – Disney Springs 2305 Hotel Plaza Blvd. Lake Buena Vista, FL 32830 Register By Oct. 14, 2022. Registering a group? Call us at  (315) 732-0097 to discuss the best rate for you.  The registration fee includes a copy of Quanterion Solutions' popular "System Reliability Toolkit-V" and "QuART PRO" software (a $264 total value). View the other course option in Fall 2022 Open Training, Software Failure Modes Effects Analysis, offered the same date and time.